Once upon a time…
The year was 1998, I was 4 years old, and my family lived in Itu, Brazil. My dad was the Youth Department Leader of the South Brazilian Union, and we often spent time with the Union Auditor's family. The Auditor had three sons (the eldest was just a few months older than I), and the four of us regularly played and spent time together, until one day my family moved to serve in the United States and then Canada.
Ten years later, back when MSN* was a thing, I was online when a new chat window popped up. It was the Auditor's eldest son, Vinícius. He wanted to know about his aunt and her family who had recently moved to Canada and stayed with us. Had they arrived well? How were they doing? I answered the questions, but the conversation lasted for another seven years through MSN, emails, Orkut**, Facebook, etc. Him in Brazil, me in Canada.
*an early version of a messenger app, but on our computers because we didn't even have smartphones back then…I know!!
**a social media platform, contemporary of MySpace and Facebook that is now long gone.
That first year (2008), we spent hours talking on MSN every day, and he soon became a favorite part of my routine. The Internet gave me many friendships, but Vini's was different. Our talks were what I looked forward to every day after school, and no matter how many MSN chats were open at the same time, his was always priority.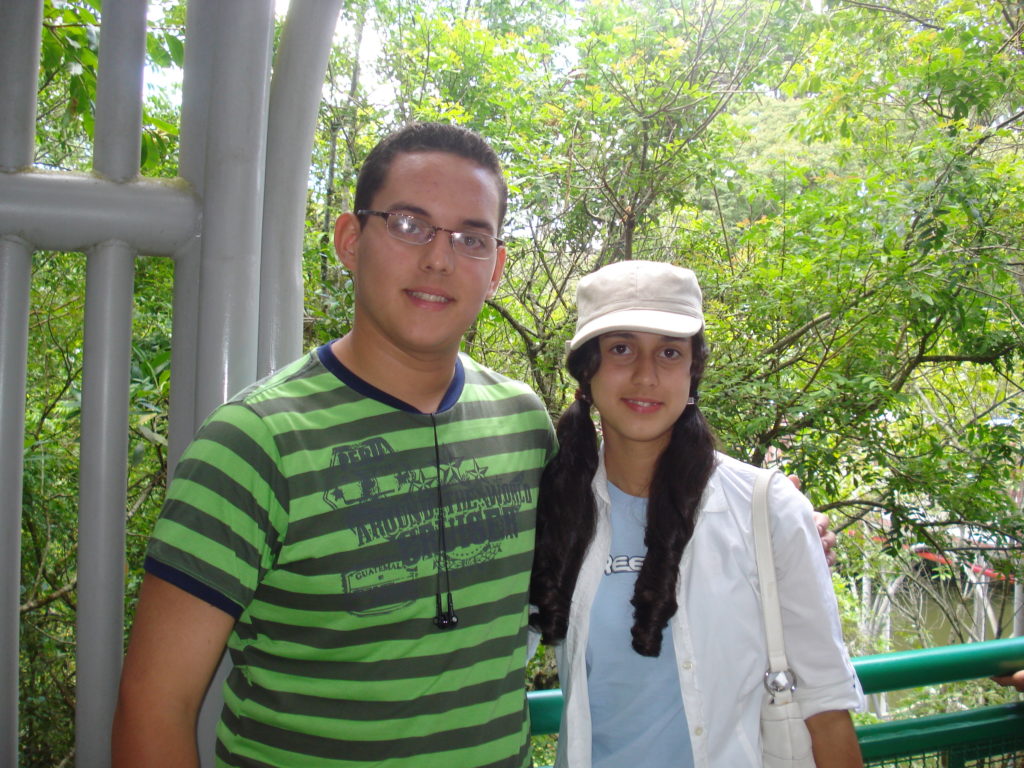 That December my family went to Brazil, and my father spoke at a youth conference in Curitiba—a youth conference Vini was also attending. It was the first time we met after reconnecting online, and we spent the whole event very and extremely shyly in each other's company.
We continued talking every day when I went home. Relatives started teasing and wiggling eyebrows. But Vini wasn't a crush I was eager to talk about. I never wrote his name in journals or showed his pictures to my friends. He wasn't a "maybe". He was it. He was the mold anyone else would have to conform to fit. He was my "when you know, you know." He was home.
And yet…we were fourteen.
In early 2010 our conversations started to become stale. I started spending more time at the library, checking out books on drawing, photography, and classical Hollywood cinema. I binge-watched every Deanna Durbin movie. My family and I went to California for the first time and then to Italy. There was less and less time for daily MSN chats.
In 2011 my family moved across Canada, and by then everything else was dead and Facebook was how we kept in touch with people. Vini and I sent each other messages on Messenger: I'd message one day, he'd reply the next, then I'd reply the other day… Keeping it cool! Neither one wanting to be the overeager keener.
But every time anything exciting happened, he was the message I had to send. He was with me through my swimming and lifeguarding exams. His plan was to go to vet school after graduation, so I encouraged him to get an internship at the local vet clinic. Which he did.
And during those conversations…something shifted. Something very real. Too real.
In 2012, we went to Brazil for yet another youth conference. His 18th birthday had just passed, and I bought him a vet lab coat as a gift. But I avoided him throughout the entire event, sticking close to my friends. I knew it had finally happened. He was ready for a deeper friendship than what we already had. And, suddenly, that was really scary.
I loved our friendship. It was everything! Why risk complicating it?!
In the last hours of the event, Vini found me and said he had something for me. I attempted to change the subject with the lab coat and birthday wishes. He handed me a book, and we left the event.
The first few pages of the book were filled with lyrics to songs we'd traded over years of online chats, inside jokes, cheesy lines, and poems. The rest of the pages were cut and inside the slots was nestled a lengthy letter. I'll spare you the sappy details of the letter, suffice it to say it required a response. I asked for time.
Our conversations became daily again. I sent him an email hyping him up on his first day at his "grown-up" job, and he assured me everything would be fine the night before my first day at university. Finally, in the summer of 2013, we became "official" to no one's surprise.
Three years of long-distance later we finished our B.A.s and got married in a small, intimate ceremony with over 3oo friends and family members.
Somehow, it's been four years since July 17, 2016. The lab coat is yellowing in the back of our closet (please DM me if you're in vet school), our once empty apartment is full of things and memories, and I know I am the luckiest girl to be able to keep house and have nightly sleepovers with my best friend. It's been four years, and our love story is still only beginning.